MARA! MUSICIANS
Mara! at Victorian arts Center 1998 SIDNEY AUSTRALIA
Photo Chris Birmigham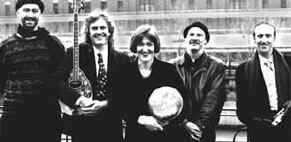 Mara Kiek: voice and percussion
Llew Kiek: guitars, bouzouki and baglama
Steve Elphick: double bass
Paul Cutlan: clarinet, tenor and soprano saxophones, recorder
Andrew Robson: alto and soprano saxophones, clarinet, percussion
Daniele Di Giovanni: sound technician

illustrious sound engineer




Eduardo Di Giovanni
le poesie

Canberra National Folk Festival
Easter 2003
Mara! and Martenitsa will perform several events at the National Folk Festival at Easter 2003.
This will be the premiere of the new "Italian Suite" for Mara! and Martenitsa. The
texts were written by
Eduardo Di Giovanni,
father of Mara!'s illustrious sound engineer, with music by Mara! band members.
Left : Mara!'s amazing sound technician Daniele Di Giovanni on the phone on tour with Mara! in suburban Shanghai, China 2001.
Mara! members have performed/recorded/written music for a wide variety of Australian and European projects including feature films, video documentaries, CDs, theatre works, commercials and video clips. Mara, Llew, Steve, Andrew and Daniele have toured internationally with other Australian, British or French ensembles. Llew has produced CDs for many Australian world music and classical artists.